On the front, there's a silhouette of what looks like an Omega Supreme with Armageddon Add On Kit in robot mode and city mode. Notice that it's not exactly YOS Omega Supreme but it does somehow look better...
At the back, there are a few images showing the details and features of the kit.
In Package View
Armageddon comes with an instruction manual showing how to assemble the kit in robot and city modes. There's no technical spec/biocard included in this set unlike most 3rd party releases.
Armageddon Add On Kit
There are a few components in the add on kit which frankly, I don't know what they're called, haha. Quality-wise, the plastics feel very solid and the detailing is awesome.
I'll do things differently this time, starting with the robot mode first.
Impressive! That's one word to describe him. Attaching all the parts takes almost no effort at all, with every connector pegs firmly into Omega Supreme.
The new blaster arm attaches easily on Omega's left hand. However, the green part at the end of Omega's hand needs to be detached and attached to his left foot. Sorry as mine is missing the green part and I can't demonstrate the assembly. The example can be seen below:-
Pic Credit : Maketoys
The attachment on the side of the legs are done using the connector ports that were also used to attach Energon Optimus Prime drones.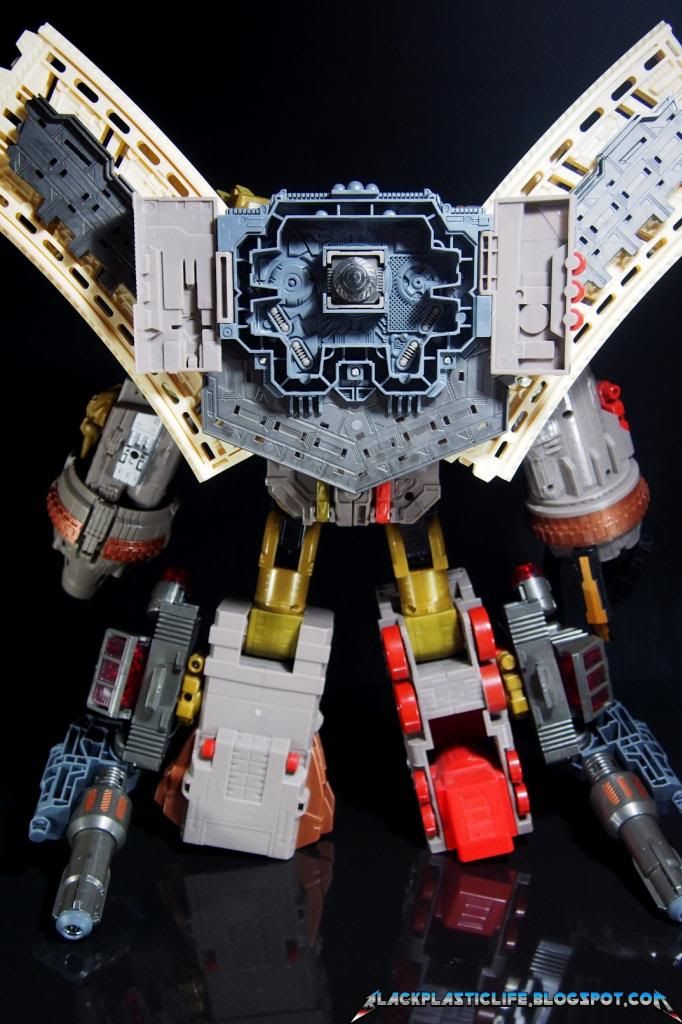 Back View
The back pack consists of most of the parts of the add on kit. All the parts are connected securely to each other and pegged inside of Omega Supreme. The back panels from YOS Omega Supreme are reattached at the back of the add on.
Due to the increase in the weight especially on Omega Supreme's back, the leg attachments can also act as stabilizers.
There's an LED installed at the tip of the blaster hand, controlled by an on/off switch, which is better than how Planet X did theirs before.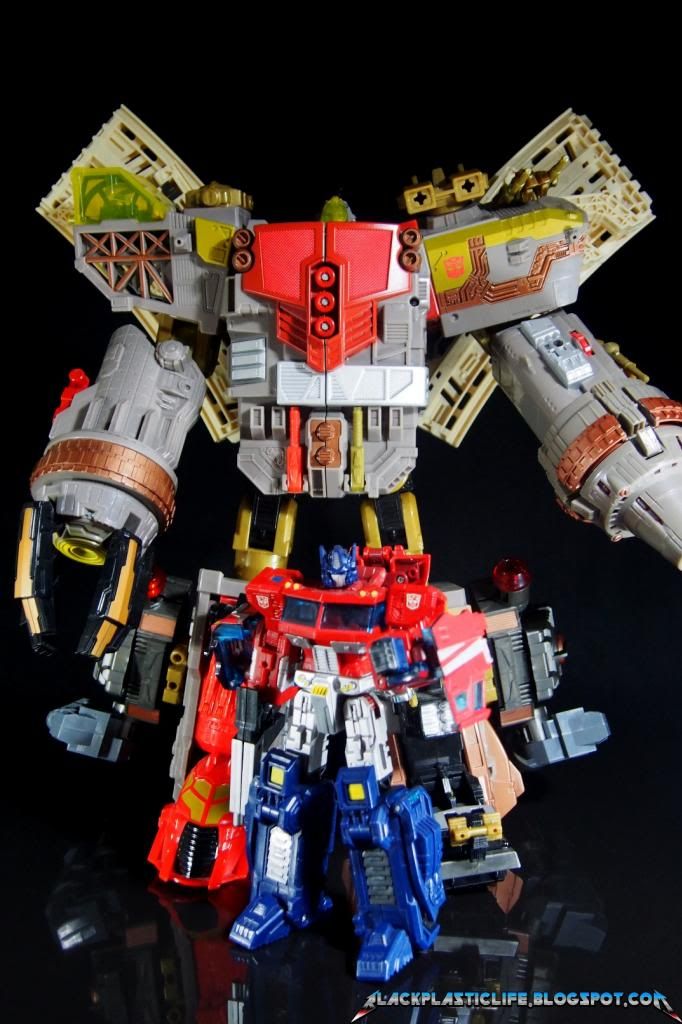 Standard Supreme Class Size
Base Mode
Next up, we have the base mode which also includes a launch platform.
Assembling the base mode took quite some time and a lot of referring to the manual. However, after you're familiar with it, things become a lot easy. The connection between parts are strong and they hold up nicely.
In my opinion, the base mode is way better than the robot mode. In this mode, you can clearly see how great the detailing and design of the kit, looking more like part of Omega Supreme than an add on.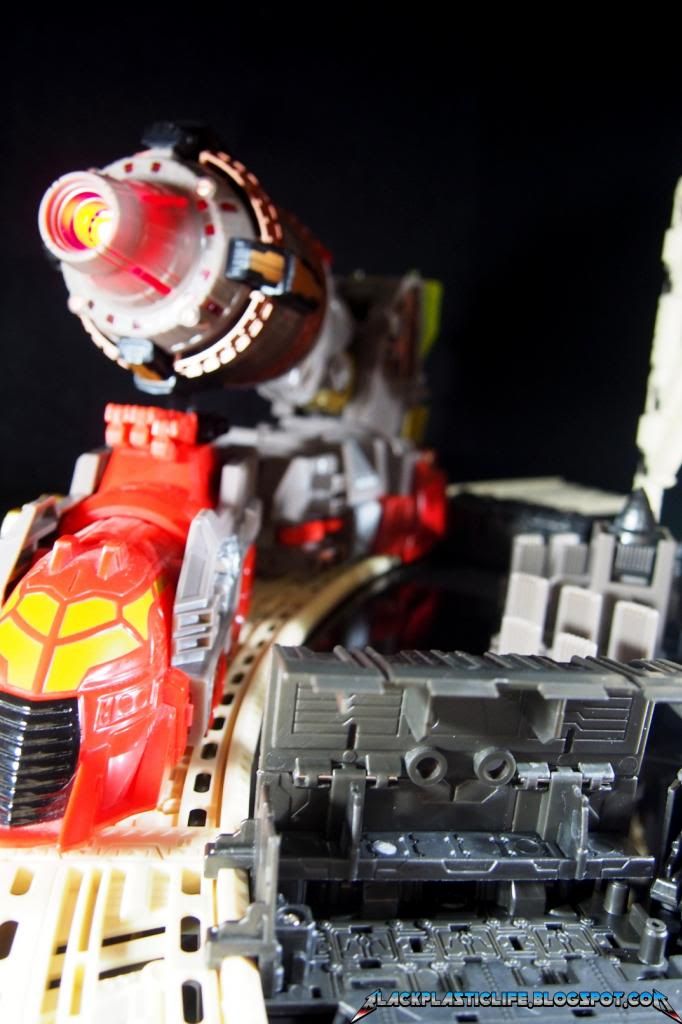 Blaster Arm attached to Omega Supreme's claw
Aside from the LED in the blaster arm, there are two more installed in the leg attachments that act as spotlights in base form. However, I'm not sure whether it's just mine or not but there seems to be a wire exposed on both of the attachments.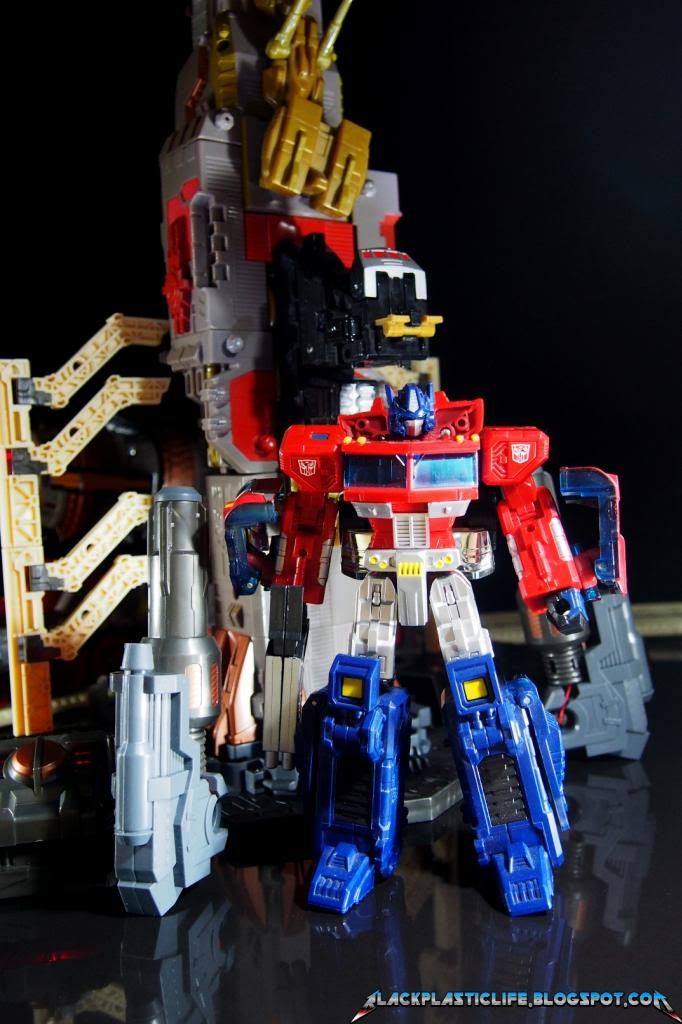 Size Comparison with Henkei Convoy